Dear Me On A Bad Writing Day,
I know how you feel.  I have been there.  Your heart hurts, right?  You feel terribly, horribly inept at this writing thing.  There is not a sentence you've written that you are proud of.  The best ones you wrote were the darlings you had to kill.
You've contemplated putting them back in, maybe you even did.  But, for one, they still don't belong, and, two, they make the rest of it look even worse by comparison.  You feel like crying.
But…  You are not as close to tears as you feel because you are not, in fact, crying.  So, let's start there:   You are stronger than you think.  I know advice makes your skin crawl, but here it is anyway:
First, stop reading that book.  You know the one I am talking about.  The book with characters you don't relate to but are fascinated by nevertheless; the book with one poetic sentence after another and words you fall in love with and make mental notes to look up later; the book with astounding story turns that consume you.  It's the one that leaves you feeling that you will never, ever be able to write anything that good.  Close the cover.  Now. 
Yes, we become the writers that we read.  Yes, you should keep reading the writing you aspire to.  Absolutely.  But, not when you are writing your first draft.  Read something unchallenging and entertaining.  This is your one chance.  Try it during second draft and I will come back and smack it out of your hands.  What you are doing by reading that other book during your sh*tty first draft stage is trying to perform a trick you've never done in front of the master who invented it.  Trust me, you don't have that kind of self-esteem.
Second, bad writing days happen.  If you've given it your all or something else in life sucked the all right out of you, let it go.  I know you like word counts, but sometimes, I'm sorry, but you will not hit them.  Maybe you couldn't produce that day.  Maybe you revised which actually cut your word count even though you worked hard for your entire writing block.  It happens.
Do not put yourself in the hole.  How can creativity sprawl if you start out the day at negative 1,500 words?  2,500 words?   Recalibrate.  That other day is a lost cost.  Gone, done, let it go. 
The most important thing is to put your tailbone in the chair tomorrow.  I've seen you when you don't write, and you are a moody grump.  Your friends and family do not deserve that.  Pull out the words.  Even terrible words are better than no words.  Writing heals the writer.
Third, speaking of terrible words.  They probably are.  You cannot compare your sh*tty first draft with the last two novels which have been through sixteen (hundred) drafts and nine(ty) reviews.  Stop worrying about if your characters are flawed enough or have the right names, or are set at the right age.  Stop worrying if the narrators are balanced.  Stop contemplating the architecture of the novel.
The reason it feels harder than last time is because it is.  You learned on the last ones.  You are a better writer, and your expectations for yourself are higher.  Remember when you wrote that first book?  That spiral-bound unpublished beauty under your bed?  Every moment writing it was glorious.  Because you couldn't believe you were actually doing it!  Borrow some of that.  Let the terrible come.
What came out back then was much worse, but you didn't know it.  I guarantee that most of what comes out now will be better than that one ever got.  Let up and let it flow.  In lieu of ignorance, it takes courage to let yourself be terrible.  You know enough now to fix whatever happens, but you have to have a story first.  No one is braver than you.  Have some faith too.
Fourth, you can write anywhere.  I know you're proud of that.  Yes, I remember the time that you wrote in a church because the sanctuary was empty and had wi-fi.  Cute story. But if your story isn't coming to you, tomorrow get your butt in your favorite writing chair at home where you can write without anyone ordering a double shot espresso vanilla latte in your ear, and knock out some scenes.  All that flexibility (a.k.a., distractions) can make it harder on you.
Fifth, you cannot please everyone.  If you try to write a story that will thrill everyone you know, you will lose it.  Pick yourself.  Write the story that you like to read.  Trust your instincts and taste.  You'll get critiques later to make sure.  Give yourself some rein now.
Sixth, stop wordsmithing previous chapters.  The same way every scene should move the story.  Every writing block should too.  Insert a note back there if you need to, but forward momentum, MM.  Keep up the forward momentum.
Lastly, I know that you are terrified that you can't do this.  You've picked another one that is too ambitious for you.  You don't see this one as clearly as the last one.  You feel at once in a fever and at a standstill.  You have no idea how you're going to pull it off.
I know.
But you will.
The story would not have picked you if you couldn't write it.  Put it on the paper.
I have faith in you.  When you don't, you can borrow mine.  We'll take turns.  I'll surely need you to return the favor.
Love,
You
—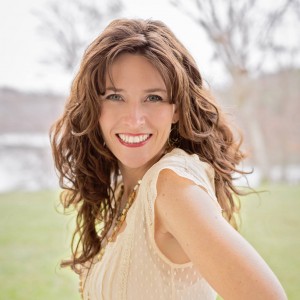 MM Finck writes women's book club fiction and is represented by Katie Shea Boutillier of the Donald Maass Literary Agency.  Her novel, FORGET WE MET, is currently under consideration at several major publishing houses.  This article originated in the car on the way home from a bad day with her next one, CANARY FALLS.  It is the advice that the experienced novelist gave her once again fledging self.  Talking to herself has been a long time ailment of MM's.  Writing for WomenWritersWomen['s]Books is one of her favorite things to do.  Connecting with people – anyone – is another one.  You can visit her website www.mmfinck.com to learn more about her and her novels.  She is also active on facebook mmfinck and twitter @mmfinck.  Please, reach out.  It would make her day.  Mention WWWB!
Category: Being a Writer, On Writing